Ok guys, now it is very important that I explain that this is my father's story, I feel it is a must that we remember that he is a Master of his craft and this is probably one of the last real ones standing today. So here is a YOUNG man who gets swept up in a whirlwind of adventures in a time where free thinking and expression was at a high. Here is where things are going to get real! now comes the moment to make a little recount of the events and take you a little behind the scenes, into the more personal and intimate aspects of this story. Although it is true that Juan de Prat-Gay was detrimental in the accomplishment of most of Maron's achievements and apparently easy success in his early carrier, on the other hand his interest didn't rest solely in Maron's undeniable talent, but other more tangible physical aspects, of which my father was also obviously gifted. The problem was that Maron was not willing to play the game, at least not all the way. Juan was also very controlling and wanted to shape his life the way he seamed fit, from how to behave, speak or dress, even make love! But one thing he would not tolerate at all was the use of any drugs, that he made very clear. One night they got a ride from Torremolinos to Marbella in a Rolls-Royce that belonged to Pia de Saboya, I can show you as reference a picture of the royal family in which she is in…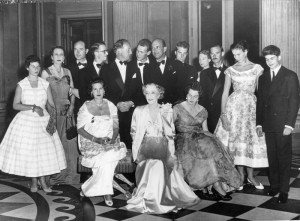 a true royal Italian princess, who just arrived from Italy in the company of two young Italian "Fabio's", one's who's name was actually Fabio :), and the other was Hugo, the future husband of Menchu, everyone who is been in Marbella knows her bar and restaurant. During the ride the Italians lighted a join, and as the rule goes they passed around, Juan politely refused but my father took a hit, and as later he found out it was a terrible mistake. back at home all hell broke loose, nasty things were said and things got out of hand, Juan stabbed one of Maron's best paintings, the one of the green pond in the park the Retiro in Madrid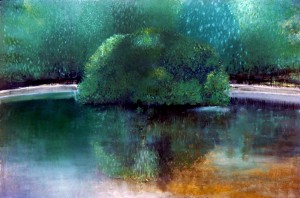 that was the end of the impossible situation and from that moment on Maron was on his own. He left Marbella and went first to Paris, but as much as he had learned from Juan his social skills were no match! but at least he was free and fully enjoyed this new situation as much as a young attractive guy would, in the beginning of 67 he went to Hamburg living a totally bohemian life, lost his passport and returned to Barcelona where he then lived with my grandparents, during his stay he encountered a previous acquaintance, the actor Thomas Milian, who was making a movie in Spain, he invited Maron to Rome and drove in his Rolls-Royce with his wife Rita. There he made her portrait. Here is a picture of one of his posters…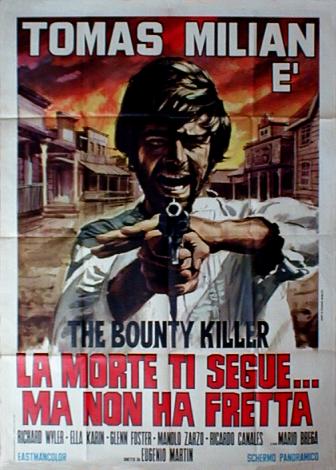 In May he went to Cannes during the festival, here a photographer who was taken by his good looks took  some pictures of him (I can't argue that he was very handsome!)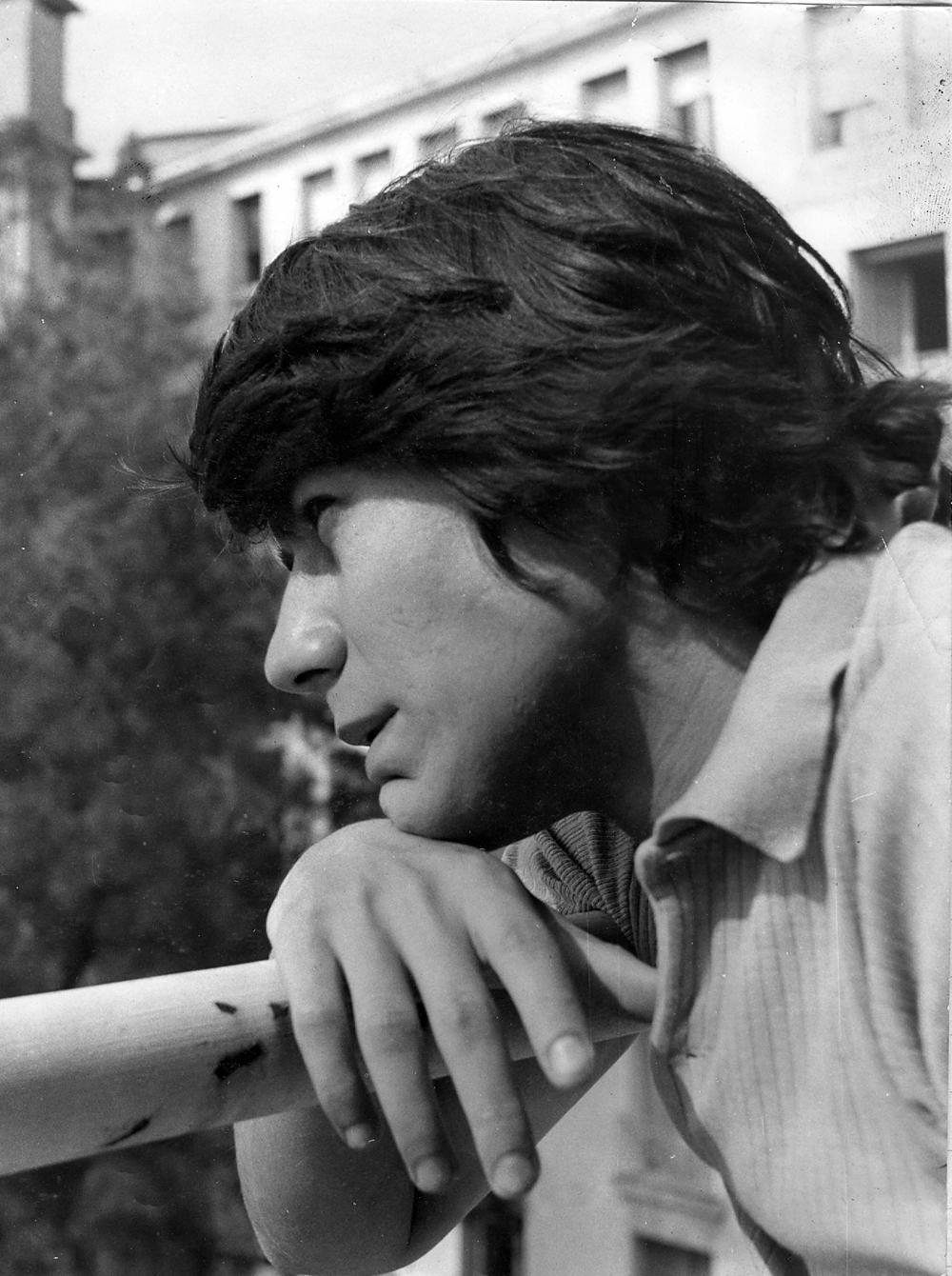 and here is the Travolta look alike picture

then back to Italy, and ended up in Holland until he made it back to Barcelona and by inertia returned to Marbella a year after he left, this time he made a drawing of Juan who had also started painting, here you can see it even thought it has been damaged by a flood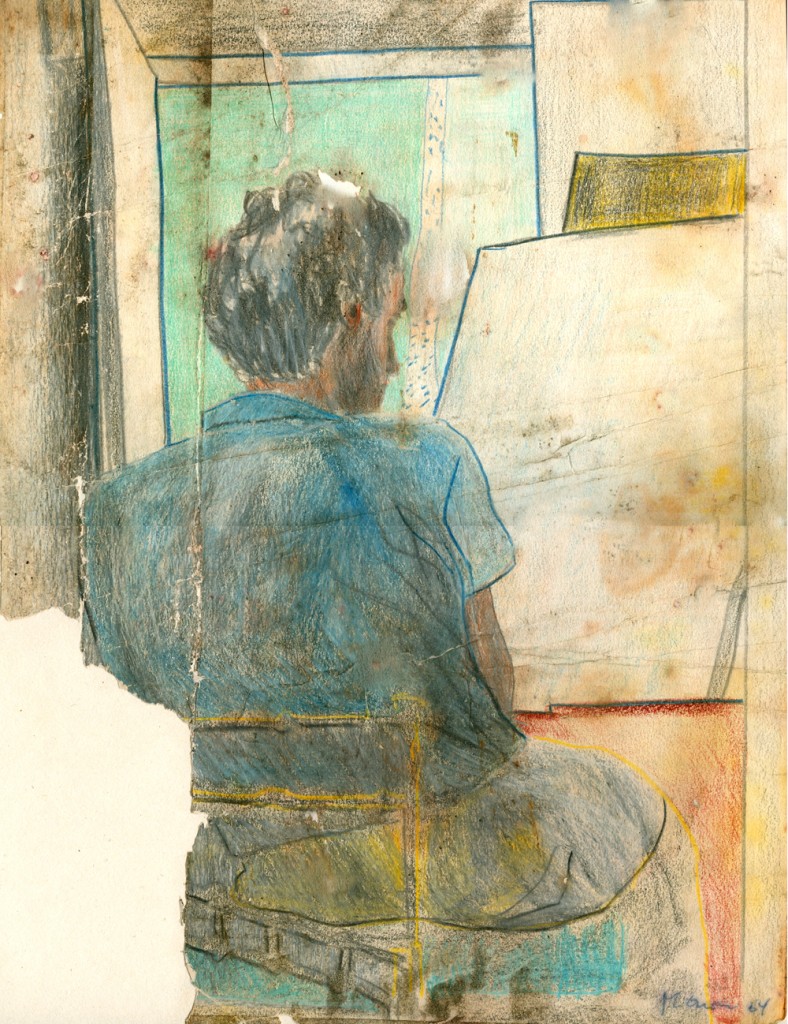 here is a drawing of a new friend of Juan's that he met upon his return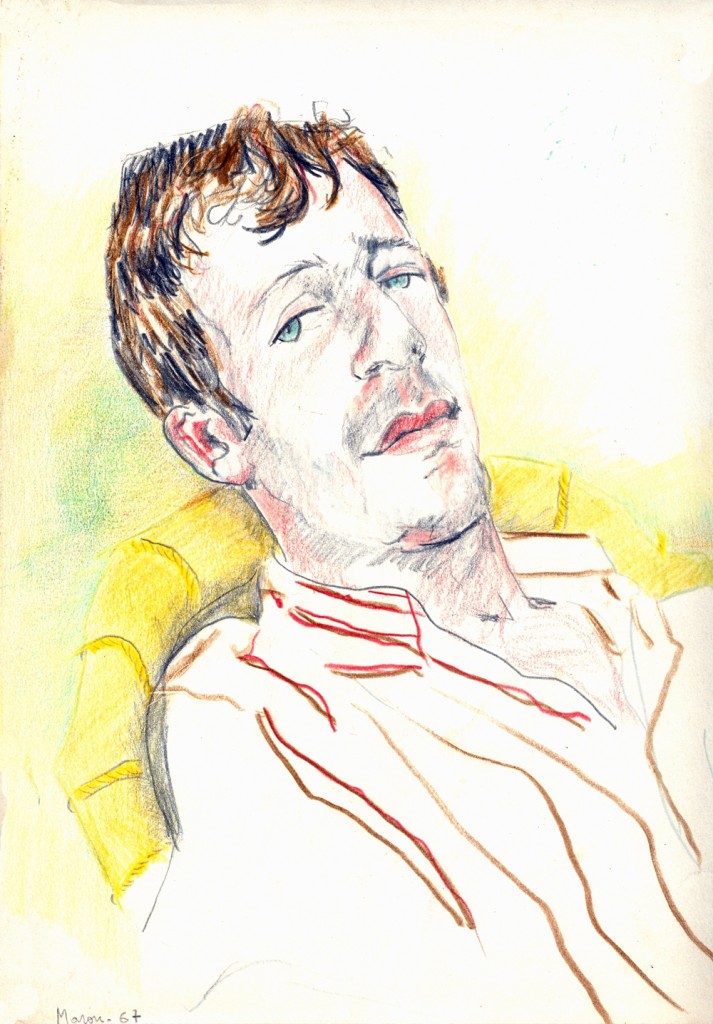 (This drawing actually was the first piece of work of my father's that my mother ever saw when she met him in Morocco for the 1st time…love was in the air…the colors, the lines, the essence he captured with some pencils and paper…the talent of this young man Maron!) we will pick up on this later, the meeting of my parents!
The adventures during this year & journey could fill a book! and it shall

The year of '67 would not end without still bringing Maron what he had actually been looking for all around Europe, and practically since he started to walk (in his words). By November he happened to be in Marrakesh and that is when he met my mother.
Well here it is, until the next chapter…much love and blessings xoxox